The men who've been president have certainly been a varied lot! From brilliant (Thomas Jefferson) to dopey (Warren G Harding) from unifying leader (Dwight Eisenhower) to divisive loner (Richard Nixon), our presidents have represented both the best and worst that America has to offer.
During a recent college presentation, I was asked an intriguing question: "Have there been any presidents who killed someone?" I could come up with several off the top of my head, but I thought it would be interesting to see if I could put together a comprehensive list.
In doing so, I excluded the those presidents who gave orders that ended in the deaths of others. Thus, Barack Obama, who ordered the killing of Osama bin Laden; and Lyndon B. Johnson, who ordered the bombing of North Vietnam are excluded.
Here is my list of the Presidents who killed someone. If you find an oversight, please let me know in the comments section below!
1. George Washington (probably)
Washington, a career soldier, was involved in several engagements early in his career in which he fired his weapon in close order combat. As you might expect in such circumstances, it is difficult to know if Washington actually killed someone, but it would seem highly probable.
2. James Monroe.

The Battle of Trenton was the turning point of the American Revolution and future President James Monroe was one of its greatest heroes. Monroe was badly wounded while conducting an act of almost unbelievable heroism. Without question, Monroe would have died on the streets of Trenton had his gun shot wound not been treated quickly and well. Many eyewitness accounts say that he killed one or more Hessians during the battle. Like JFK and the PT-109, James Monroe's actions in the military became an important part of his biography when he ran for President.
3. Andrew Jackson.

In addition to his  controversial military career, we know that Jackson killed a man in a duel to defend the honor of Jackson's wife. Jackson fought more than one duel–definitely not a man to make mad! Additionally, he was in numerous close-range battles as a soldier. His fearlessness under fire was remarked upon often
4. Many presidents served in command capacity during the Civil War. (A. Johnson, U.S.  Grant, Hayes, Garfield, Arthur, Harrison and McKinley) and others, most notably W. H. Harrison and Zachary Taylor combat who saw heavy combat, served in other 19th century wars. It is impossible to know precisely when soldiers are firing rapidly in a battle who killed whom. A very strong case could be made that Benjamin Harrison killed men during heroic action in hand-to-hand combat at the Battle of Resaca in the Civil War. (A  hat tip to historian Kara DiDomizio for pointing out Benjamin Harrison's involvement!)
5. Grover Cleveland.
A man of staunch integrity, Cleveland, as Sheriff of Buffalo, carried out 3 orders of execution personally. While the law did not require the Sheriff to personally carry out the execution, Cleveland believed it was his duty.
6. Theodore Roosevelt.
TR claimed to have killed men during the Battle of San Juan Hill. One thing that distinguishes Theodore Roosevelt from the other presidents on the list is that he boasted proudly of his accomplishments.
7. Harry S Truman. Our only president to serve during World War I, Truman's courage under fire saved the lives of many of his men. His biographer does not record any instance in which Truman was believed to have killed anyone, but, as with any soldier in combat during wartime, it is certainly possible.
8. Eisenhower, Kennedy, Johnson, Nixon, Ford, Reagan, and George H. W. Bush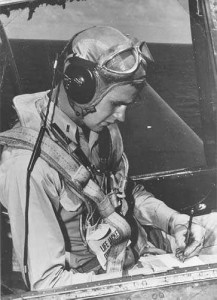 all served during World War II. Given the nature of his assignment, it is very likely that George H. W. Bush killed numerous people while serving as a bomber pilot. He earned his wings as the youngest Navy pilot at the time and all tolled, he flew nearly 60 missions. He was shot down and then rescued and earned his Distinguished Flying Cross for his service. Due to the nature of their assignments, none of the others would have killed anyone.
So what is the final total of Presidents who killed someone?
Definitively: (6)  Washington, Monroe, Jackson, Cleveland, T. Roosevelt, G. H. W. Bush
Probably: (4)  W. H. Harrison, Taylor, Grant, Benjamin Harrison
A list of people associated with the presidency who killed others, outside of war situations, is quite fascinating and probably deserving of a separate post! Adlai E. Stevenson and Laura Bush are two of the more prominent names.  Click here to read about JFK and the PT-109 – as close a brush with death as a future President would come.