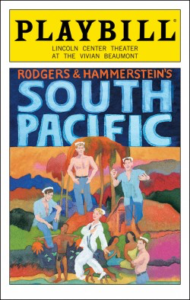 "South Pacific" is one of the greatest Broadway musicals ever written. It is also one of the most important and influential works of American theater. In its brilliant artistry, the masterpiece of Rodgers and Hammerstein turned a spotlight on the hypocritical, hateful nature of racism. And that is just what Oscar Hammerstein II intended.
TEACHERS! Click here for a lesson plan.
HAMMERSTEIN'S MORAL CAUSE
Hammerstein was a patriot who abhorred prejudice. Long before his groundbreaking partnership with Richard Rodgers began, Hammerstein's liberal and moral views were evident. His breathtaking libretto for the (now) classic musical "Showboat"  (1927) was decades ahead of its time in showing respect for people of color and surprisingly frank in its look at the harsh nature of racial prejudice. His professional work was remarkably advanced for the times in questions of race.
South Pacific And Racism: Hammerstein's Passion For Equal Treatment For All
In Hammerstein's personal life we see abundant evidence of his desire to destroy racial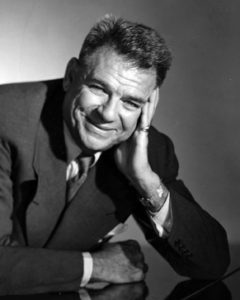 prejudice. As a board member of ASCAP, he was dedicated to protecting the rights of African-American songwriters; as a diehard baseball fan, he vigorously called for the integration of Major League Baseball. In the 1930s, Hammerstein helped found the California Anti-Nazi League. With his wife Dorothy and friend James Michener, Hammerstein helped author Pearl S. Buck found "Welcome House." After finding mixed-race children of American servicemen were not being placed for adoption, they formed:
"…the Welcome House adoption program matched more than 7,000 orphans and children from around the globe with adoptive families in the United States. Many of the children were biracial."  (Welcome House Website)
Hammerstein's daughter adopted two of the mixed-race children, to her parents' delight. Thus Hammerstein's own family was integrated!
South Pacific Add Racism: Jerry Watanabe – A Personal Cause
Hammerstein's sister in law, "Doodie" had married a man whose mother was British and father was Japanese. That man, Jerry Watanabe, was a cultured and important businessman working in New York City when the war began. Hammerstein's brother-in-law was interred as Ellis Island. "Doodie" and her daughter came to live in Doylestown Pennsylvania with Oscar and Dorothy Hammerstein. Seething at the injustice done to Jerry Watanabe, as well as 127,000 Japanese Americans who were interred, Hammerstein cared for his niece and attempted to enroll his niece in the local school. When he asked the school Principal for a promise that the girl would not face racial discrimination, he was told, "She'll have to pay the price for her antecedents," The Hammersteins, who were Jewish, promptly enrolled the girl at a Quaker school instead. The incident caused the already activist writer to become even more direct in combatting race prejudice.
South Pacific And Racism: "You've Got To Be Carefully Taught"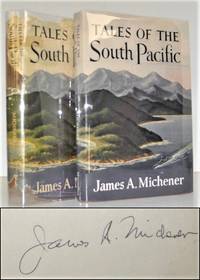 James Michener, the author of "Tales Of The South Pacific" shared the racial views of his friend Oscar Hammerstein. As he took fragments from the book's colorful stories, Hammerstein weaved them into an entertaining but thoughtful narrative about Americans learning about racial prejudice in the South Pacific during World War II.
In "South Pacific, Ensign Nellie Forbush, a chipper and optimistic nurse from Little Rock Arkansas falls in love with a handsome, mysterious, rich planter. The energetic Nellie freely admits that she's "in love with a wonderful guy." However, their romance comes crashing down when Nellie discovers that he has two mixed-race children from a previous marriage. Her innate racism leads her to reject the children, at first, until she learns the lesson that racism is wrong.
Meanwhile,  Lt. Joe Cable, a brave blueblood Marine from Philadelphia falls under the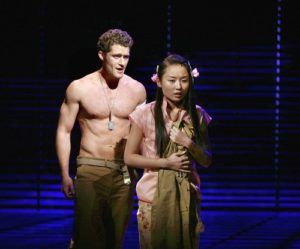 spell of Liat, the beautiful Polynesian daughter of 'Bloody Mary.' Although Cable falls hard for the girl who speaks little English, he is presented with the stark realization that he cannot possibly marry Liat, as she would never be accepted back home. By extension, neither would their future mixed-race children be welcome in America.
According to a superb account by author Todd Purdum, the original script by Hammerstein had some amazingly frank dialogue between Forbush and Cable as they directly explored their own racism and that of the country they are serving to protect.
"You've Got To Be Carefully Taught" is the least melodic and least musically memorable number from the brilliant score. However, it is the very heart of what Hammerstein is trying to say. Racism, he argues, is a learned behavior. The song caused great controversy. Michener and Hammerstein each recounted pleas from critics and audience members, demanding the song be removed. Southerners were aghast. Like "Hamilton" and "Dear Evan Hansen" today, the show touched a nerve. Audiences debated and argued – but they could not stay away. Hammerstein refused all entreaties to remove the song. It was his show and his message. He and Rodgers were always proud of the song, the show, and the opportunity to open the eyes of audiences to the scourge of prejudice.
Postscript: My Favorite Musical
As a self-confessed Broadway nerd I have seen over 200 shows in New York. From lowbrow to highbrow, my taste in Broadway is quite eclectic.! I am often asked if I have a favorite show. That is impossible to answer! If I chose She Loves Me, I would be excluding My Fair Lady! But if I HAD to choose just one, it would be South Pacific. Although I've emphasized the political message, it bears repeating that South Pacific has an unforgettable score, a moving and sometimes comic plot and fantastic characters. If you ever have the chance to see a professional production, jump at it. I am not a fan of either film version.